School Meal and Snack Program
Friends in Need Food Bank Society
The Friends in Need Food Bank Society (FIN) provides food at the beginning of each week during the school year to elementary schools, high schools and outreach/alternate educational programs in School District 42 (SD42) based on the needs the individual schools identify. This could be a sit-down breakfast, lunch and/or snacks prepared on-site for anywhere
from 10 to 150 students per day. As of November 2021, more than 3,000 students benefit from this program on a weekly basis.
In the past years, FIN has been working to establish a system that would provide food to school meal programs. The thought was if any teacher, counselor or parent wanted to establish a meal or snack program in any of the schools, they could come to the food bank for the product they needed. We found that this system of providing food only lasted as long as an individual was able to find the time to attend the food bank in person. It was not serving the purpose; children were still going hungry in our schools, and there is no reason for them to go hungry.
In December 2015, two of our volunteers undertook the task and challenge of contacting all the elementary schools in SD42 for a pilot project. Instead of having individuals from the schools come to the food bank, we would deliver food to them. These two volunteers, after meeting with many of the schools, established an order form that the schools could use to choose what they needed for their food program, whether it was just a sharing basket, a snack or a meal. The order would be placed on Wednesday, dry goods assembled on Friday and orders delivered at the start of the following school week with perishables, which included milk, eggs, cheese, yogurt, etc.
In January 2016, the pilot project was established and funded because of a unique donation from a resident of Maple Ridge, who was gifted $5,000 from Husky Canada to be awarded to the charity of his choice, and he chose Friends in Need Food Bank Society. Our project managers visited the elementary schools and provided them with a "shopping list" (order form), which they filled out and emailed back. The following week, their orders of snack and breakfast or lunch items were delivered at the beginning of the school week.
In January 2016, we began with six elementary schools and ended up delivering to 18 schools, and by the end of the school year, several alternative/outreach programs. Schools reported that hungry students were being fed, a social opportunity was created, and attendance and punctuality were impacted for the "at-risk students." By June 2016, at the end of the school year, we were providing food for approximately 250 students a day. The program looked different in each school depending on their needs, such as a sit-down breakfast, central sharing baskets, classroom sharing baskets, life skills learning for special needs students (baking, food prep, kitchen clean-up, etc.) or a nutritious snack program.

In September 2016, we geared up to provide the same service, setting a budget for the 2016/2017 School Year. Grants were obtained from Walmart's Community Giving,
Pepsico Foundation Grant through Food Banks Canada, Maple Ridge Community Foundation Grant and the Kiwanis Club of Golden Ears. We also had several business and private donations, such as Maple Ridge Chrysler and fundraisers from several of the schools in SD42. At the end of the school year, June 2017, we were providing food to 17 of the 20 elementary schools, 7 outreach programs and 1 high school. More than 500 elementary students and over 300 high school students were benefitting from the program.
As of September 2020, we are delivering food to almost every school in SD42 every week during the school year, benefiting more than 3,000 students. Due to the COVID-19 pandemic, school meal and snack programs have been altered following the necessary protocols. Thanks to a grant from Food Banks BC funded by the Province of BC, we were able to purchase a
refrigerated van to ensure the cold chain is maintained.
Each school year, we apply for grants and fundraise for this program. We have been successful in obtaining grants from the Maple Ridge Community Foundation and the Vancouver Sun Children's Fund. We have also been the recipient of several fundraisers, such as the Epic Home Golf Tournament, Broken Balls Golf Tournament, Envision Financial Golf Tournament, Meadow Ridge Rotary Club, Rotary Club of Haney, McDonald Realty, Knights of Columbus, CUPE Local 703, Iron Workers Local 97, Meadow Ridge School and numerous individuals. SD42 schools also support the program in their annual fundraising efforts and food drives. To support this program, please contact
program coordinator, Karen Osborne at
604-466-3663
ext. 203 or
Kids
@FriendsNeedFood.com

There is no reason for any of our youth to go hungry in our community.


Email Received From Christine Ahern, Youth Worker

MRSS Teen Parent Program

My new position next year with SD42 is with Safe and Caring Schools. I will be traveling around to assigned elementary and secondary schools. I may or may not need food but will let you know in September. I'm sure that I will still have orders for snack foods as it allows me to make connections with new students. It is a great way to break the ice to get them talking to me.
Thank you so much for filling food orders, organizing the food hampers and delivering them to the school. If it weren't for this service, I would not be able to provide food to the students. Having food for them not only feeds those that are hungry, but students come by asking for food so that they have an opportunity to talk about what is bothering them. From there, we work on skill-building, problem-solving and then referral to other agencies if required.
It takes a community to raise a child, and you are an integral part of the school community.
I hope that you have a wonderful summer.
Christine Ahern
Youth Worker
MRSS Teen Parent Program
778-833-1829


May 17, 2019

Reconnex is an educational program for at-risk youth between the ages of 13 and 19 years old. We offer social/emotional support, 1:1 academic support, assessments and testing, academics from Grade 8 to 12, graduation programming and community support referrals.
The food provided to our program from the Friends in Need Program is vital to our ability to offer continued and consistent food items from September to June. In conjunction with two funding sources, Reconnex feeds between 40 and 50 students per week both in the morning and in the afternoon – offering snack baskets, a variety of drinks, access to cold food items in a classroom refrigerator and one lunch per week.
With our Nutrition Program, we are able to ensure that the students arriving for class have their needs met, including feeling full and comfortable and then being able to focus on academics.
Our students are at times street entrenched, experiencing addiction, mental health issues, family and community conflict, abuse and exploitation – it is imperative that Reconnex creates a safe space for the students, and the Friends in Need Food Bank Program is an integral part of the creation of that space.
This program is user-friendly, organized, accountable and enables programs to just order the food required to suit their program needs, which lowers food waste levels and increases efficiency.
Thank you.
Lori Hamilton
Youth Worker
Reconnex Alternate Program
604-345-0826


May 13, 2019
Dear Ms. Osborne:
My name is Nicole Power, and I am part of the Outreach team. We are a district alternate program that services 100 of School District 42's at-risk youth aged 16 to 19.
We have been unbelievably lucky this year to have received weekly food donations from the Food Bank School Meal and Snack Program. In addition to the all-day availability of snacks and daily breakfast offerings, Outreach offers a food class to our students each day from 10:30 AM to 12:30 PM. During that time, one of our teachers and the students prepare lunch for the other students in the program. Without the generous donations provided by the Food Bank, we would certainly not be able to provide hearty/healthy lunches such as chicken alfredo pasta, chili with cornbread, grilled cheese sandwiches and crustless quiches (these are examples of the meals that were cooked just this week!).
Many of our students are in independent living or live in poverty. There is often not enough food for the students at home, and many of them rely on us to provide a healthy lunch. Without such staples as the eggs, milk, cheese and bread (and other weekly surprises) provided by the Food Bank, it would be impossible for us to feed all the students on a daily basis on our very limited budget.
This year Outreach will graduate 54 students. All of whom are employable, and many will continue with their education at college and university. Without the food you have provided, it would have been impossible for some of these students to stay focused and motivated to finish school. I would like to thank you for all that you do for our community. You are an amazing team!
Yours truly,



Nicole Power

Mr. T. Connor: Principal
21821 122 Avenue, Maple Ridge, B.C., V2X3X2
Tel:
604.240.9897
| Fax: 604.463.5197
www.mapleridgesecondary.ca
/outreach_alt_secondary.html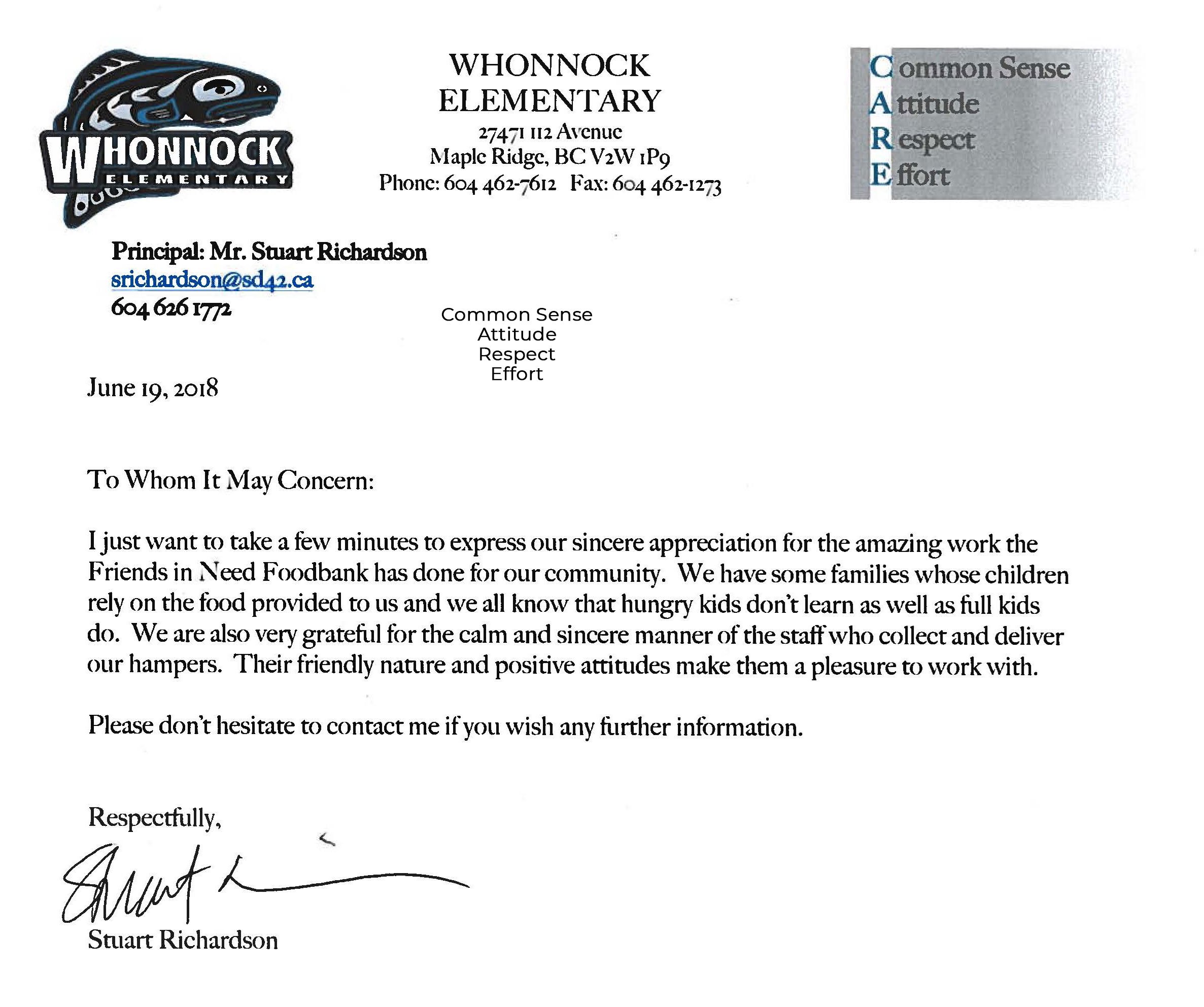 May 30, 2019

To Whom It May Concern:
The food bank delivers food every Monday. This program, along with other funding I receive for food, provides the opportunity for students to come together. I offer snacks and lunch items on a daily basis, and on Friday, I cook a meal with students and enjoy a hot lunch with them.
Food and snacks allow students and staff to connect on a deeper level. It provides an opportunity to check in about students' lives and to see what is going on outside of the school walls. Many youths come to school without food, and having the snacks available to all students lowers the stigma of getting a "hand out."
The food bank also supports the cooking program through the Greg Moore Youth Centre. Every Thursday night, we cook together and share a meal. This is teaching youth cooking skills, meal prep and food budgeting.
Thank you for all your support.
Sincerely,
Charlene Moore
Youth Worker at SRT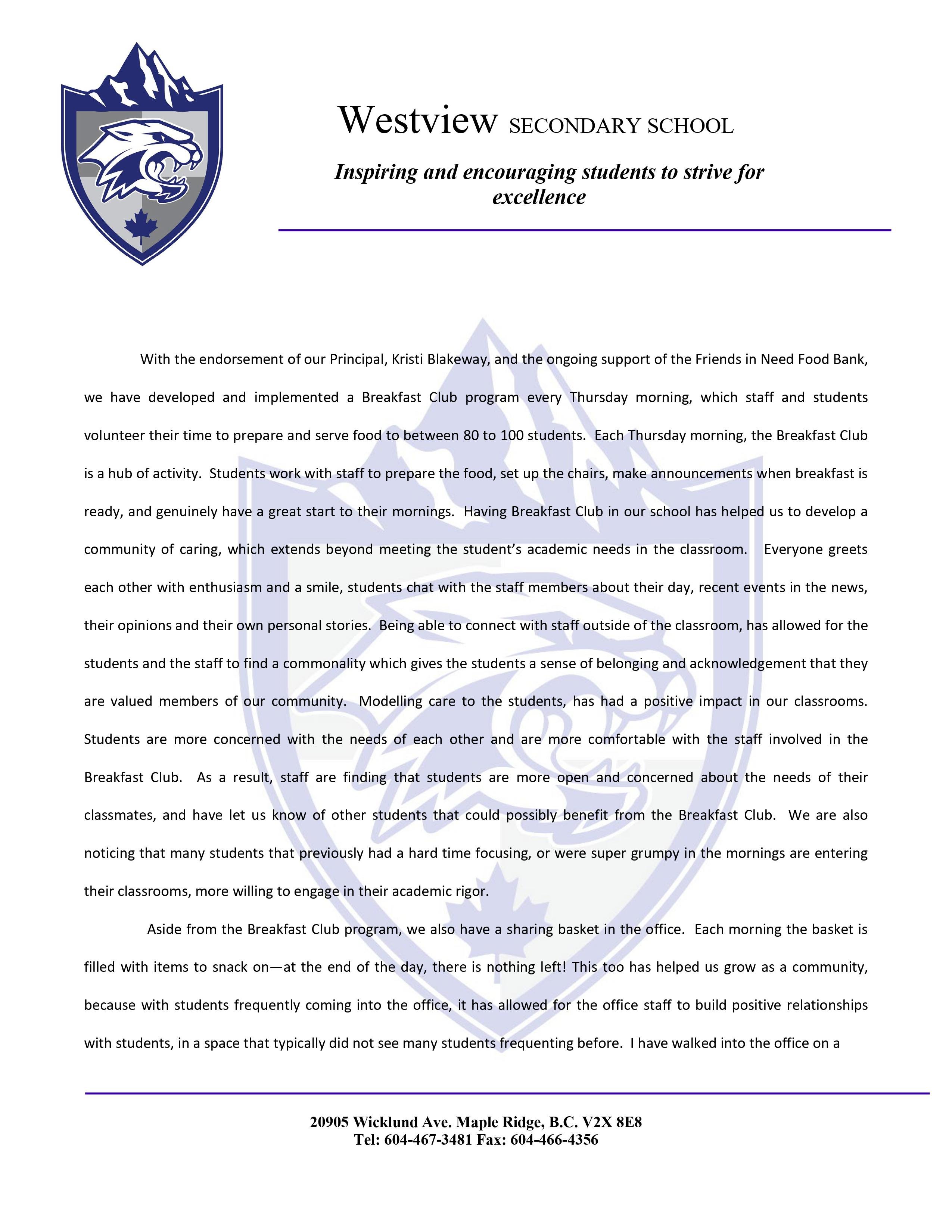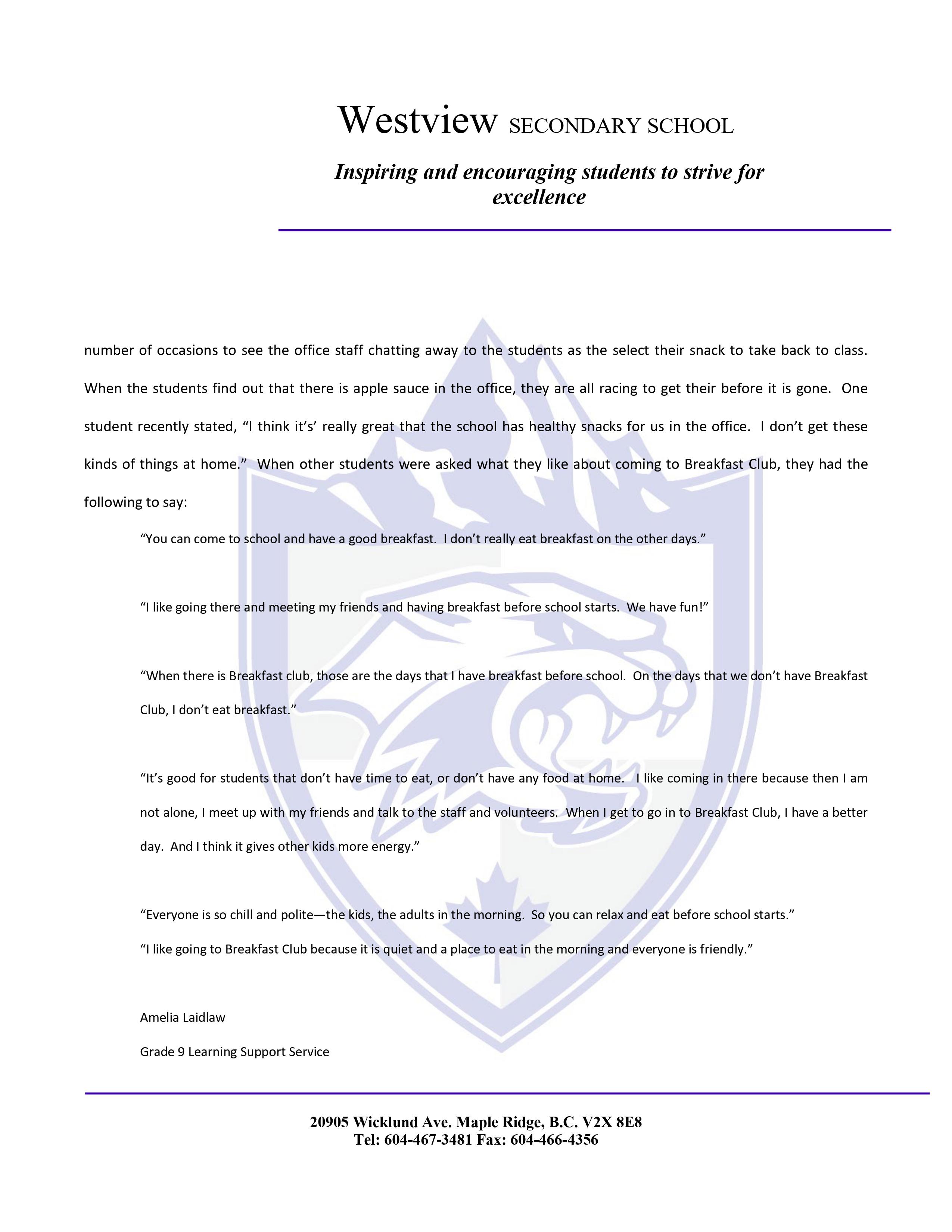 Starfish Backpack Program
As of September 2020, we are providing 130 Starfish backpacks to school kids both in Maple Ridge (11 schools) and Pitt Meadows (4 schools).